Issa
Issa is a wonderfully bright young man with autism. This means that he needs help to manage his behaviour, communicate with others and calm himself when he is overwhelmed, so that he is ready to learn. When Issa is calm, he is able to work hard on his activities in class.
Issa has made incredible progress since he began at Oaklands. He learns very quickly and loves to be challenged. He has good comprehension skills and is able to understand and follow instructions to complete tasks independently. Issa has made good progress with his writing; he can write many words independently from memory and is also working hard to learn his phonic sounds.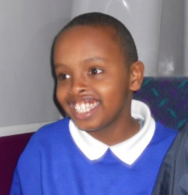 In order to be successful and happy at school, Issa needs to have a layered approach to learning. This means that he does physical and sensory activities in between his classroom work and any time he feels anxious. Issa is able to use the outdoor space at school to fulfil many of these needs. He enjoys climbing on the trim trails and being pushed on the roundabout; these activities allow him to improve his sense of balance and coordination, as well as have social interactions with other students and staff. Issa also loves to bounce on the trampoline, which he does as part of his sensory programme throughout the day. This helps him stay ready for learning.
Issa loves travelling on the minibus during our community visits. He has been able to visit parks, playgrounds, cafes, and even a pizza making workshop! These trips have all helped Issa to develop his social, communication and independent living skills, as well as giving him a sense of belonging within his local community. Now that Issa is in Key Stage Four, he also travels on the minibus as part of a life skills lesson. Once a week, the class visit the supermarket, purchase ingredients and then return to school to cook their own lunch. This is a fantastic opportunity for Issa and helps him to learn functional skills such as how to find ingredients and use money, as well as practice cooking meals which he could then make at home with supervision.