Our Charity
Why we need your help?
At Oaklands School we believe that our students are capable of making outstanding progress within their individual potential and becoming active members of society. But we need your help to provide the specialist support for our pupils and their families.
Oaklands school is in an exciting phase of expansion with a new school under construction. Therefore we need your support to make sure the new school has everything our pupils need.
Where your money goes?
All funds raised shall be used to purchase specialist equipment and towards funding the new minibuses required for the new school.
How will it be spent?
All the funds raised will be used to purchase the various equipment items and minibuses needed for the new school.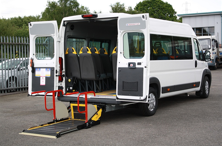 The equipment supports our pupil's development and helps our teachers in providing an enriching and enjoyable experience to them at our school. This equipment helps young people learn vital social skills and promotes mental and physical wellbeing. The equipment being bought is tailored to meet the needs of the students at Oaklands School.
Minibuses help improve social skills by providing access to the wider world. Our community education programmes enables pupils to develop confidence and independence in thier local area and will enable them to learn to use facilities for their adult lives. For many pupils accessing the community relies on minibus transport to travel to places outside school.